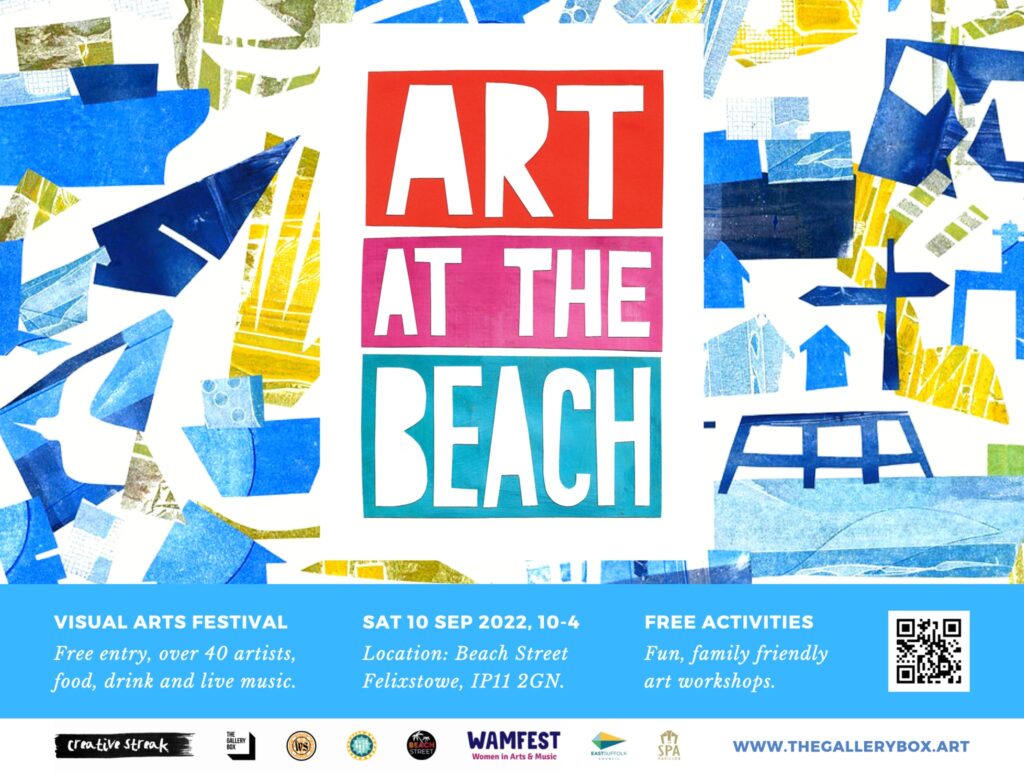 Date: Sat 10th Sept
Visual art festival at Beach Street Felixstowe
A new art festival has arrived in Felixstowe this summer! With over 40 artists and creatives displaying their work, free art activities for visitors and a demonstration tent!
ART AT THE BEACH LINE-UP!!
Tracy Barritt-Brown, Rosa Maria Manteiga Castro, Claire Fernig, Evelyn Polk, Honeypie Handmade, Hannah Tooke, Marian Lishman, Miranda Grayling, Hilary Garner, Corinne Peacock, Teresa Seals, Chrissie Green, Rebecca Pomroy, Lily Hammond, Amy Marie Gladding, Allan Williams, Clare Kelly, Rhoda Webb, Joe Davey, Shaun Hinton, Alaco Doyle, Jemma White, Mark McDonnell, Christina Roche, Frederico Ramos, Joel Millerchip, Emma Robertson, Nefie Andrews, Hannah Huntly, Jessica Macfarlane, Lisa Berry, Toby Mayhew, Lois Cordelia, Jason Curtis, Catalina Carvajal, Evie White, Sarah Johnson, Victoria Petchey, Wheeler Made It, After Hours Collective and more!!